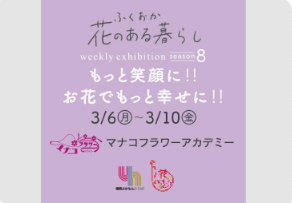 Exhibited at the exhibition at the Fukuoka Prefectural Government.
Information for tourists visiting Fukuoka on March 6th, 7th, 8th,9th, and 10th, 2023!
"Premium Flowers" will be exhibiting at the "Fukuoka Flower Living 2023" art exhibition organized by the second Manako Flower Academy on March 9th (Thursday) and 10th (Friday) on the 11th floor of the Fukuoka Prefectural Government Building "Yokamon Hiroba."
Like a spring flower arrangement exhibition, a wide space will be used to display numerous flower designs using fresh flowers.
Premium Flowers will be exhibiting one artwork  for the exhibition.  Although my work has not  been completed yet, it has been practiced and prototyped many times. This year's exhibition may not be as unusual as last year's, but I will do our best, so please look forward to it!
[Exhibition dates and times] Admission is free
First half
March 6th (Monday) 12:00-17:15
March 7th (Tuesday) 8:30-17:15
March 8th (wednesday) 8:30-13:00
Second half (my exhibition)
March 9th (Thursday) 8:30-17:15
March 10th (Friday) 8:30-15:00 (ends)
[Address]
11th floor of Fukuoka Prefectural Government Building, 7-7 Higashi-Koen, Hakata-ku, Fukuoka City, Fukuoka Prefecture
[Access]
● Get off at "Maidashi Kyudai Hospital Mae" on the Fukuoka City Subway Kaizuka Line, and walk about 5 minutes from exit 2 or 7 (there is a roof outside).
● From Tenjin Station on the Fukuoka City Subway, take the Kaizuka Line bound for Kaizuka and get off at "Maidashi Kyudai Hospital Mae". It takes about 6 minutes and 4 stops.
● If coming from JR Hakata Station, transfer to the Kaizuka Line at Nakasu Kawabata Station.
● About a 10-minute walk from JR Yoshizuka Station.
● A 1-minute walk from the "Prefectural Office-mae" bus stop on the Nishitetsu Bus Line.
You can easily explore the area in about an hour and a half from Tenjin. Admission is free, so please come and visit when you have time.
[Prefectural Office Underground Parking Lot
]
4 hours free, from 8:30 to 17:15.
Since you don't have to go outside from the parking lot, you don't need an umbrella even on rainy days.
Please note that the underground parking lot closes at 17:15, so if you are leaving after that time, please park in the general parking lot outside the prefectural office.
[
11th floor direct elevator
]
Two west-facing elevators in the elevator hall on the first floor of the prefectural office go directly to the 11th floor. Other elevators require transfers.
[
Cafe Space】
There is a cafe space called "Yokamon Cafe". The view is also very good, and you can see Hakata Bay.
The lunch menu seems to be substantial. However, it seems to be limited in quantity, so they recommend making a phone reservation in advance if you plan to go.
Yokamon Bento 900 yen (includes tea, soup, and a small sweet)
Representative phone number for Fukuoka Yokamon Square: 092-645-1835
In addition to lunch time (11:30 to 14:00 last order), there are also coffee, tea, Ume-ga-E mochi set, cheesecake, apple pie, and other items available. There seems to be a limited-time Flower Sweets Plate (drink not included).
There are also detailed menu images and other information available at the link below.
Please press the "FOR FOREIGNERS" button in the upper right corner for the English site.
Fukuoka Prefecture is the third largest producer of flowers in Japan.
There are 47 prefectures in Japan.
Fukuoka Prefecture is the third largest producer of flowers in Japan. Many flowers are grown in cities such as Itoshima, Kasuya, and Yame. In the suburbs, you can see many greenhouses.
Fukuoka Prefecture produces a lot of flowers, and it is clear that it is blessed because the quality of flowers from other prefectures may not be good during the summer. Fukuoka is famous for its fresh vegetables, but its flowers are also very fresh, and its fish is also incredibly fresh. I thought again that it is a wonderful land.
There are many high-quality roses, and many flowers that have won awards, so going to the flower market is always exciting.
You can also see the works of the head office of the Manaco Flower Academy in both the first and second semesters. Please take a look, as my favorite Rumi Manako, the academy's director, will also be exhibiting.
Last year was the first flower exhibition at the prefectural office. I have exhibited at places such as the Fukuoka NIshitetsu Solaria Hotel, Hakata Hankyu, Osaka Imperial Hotel, and Fukuoka Asian Art Museum.
Exhibitions at contests include Huis Ten Bosch and the Orchid Exhibition at Fukuoka Dome. There were also many small exhibitions of works.
The flower exhibition featuring fresh flowers has a wonderful fragrance and is a luxurious space. The exhibition is only open for two days each. Please come and visit.